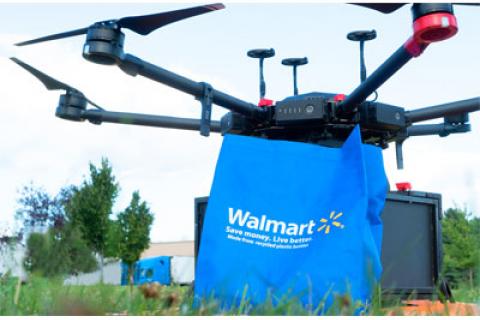 Walmart has launched its first commercial drone delivery for online customers. In association with DroneUp, the first service is with a Walmart Neighborhood Market in Farmington, Ark.
The drone delivery service will operate 8am to 8pm, seven days a week. The drones will be able to deliver items to Walmart customers in as little as 30 minutes.
Eligible customers in Farmington can place orders at droneupdelivery.com. To receive drone delivery, customers place their order online and operators pack the order and secure the box to the drone using a patented delivery release mechanism. Once the drone is ready for delivery, the flight engineer controls and guides the delivery to the customer's home.
In the coming months, Walmart plans to expand the service to a Walmart Neighborhood Market in Rogers, Ark., and a Walmart Supercenter in Bentonville.