Upcoming Events & Happenings
Members can advance their professional development by participating in PLMA's Lunch and Learn online speaker series.
Registrants nourish their intellect and satisfy their hunger by attending multiple, one-hour, interactive midday sessions that are designed to future-proof their private brands business and help ensure success for years to come.
From our President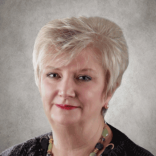 Peggy Davies
As 2023 winds down, PLMA's remains true to its mission to bring the quality products and services of our member manufacturers and suppliers to the marketplace in partnership with retailers who cultivate store brand development by consistently providing innovation, authenticity, and value to consumers.
What's the secret sauce to this continued success? It's the team of dedicated staff who execute with excellence PLMA's mission. The outstanding accomplishments produced in 2023 are set as the target to exceed our members and the industry's expectations for 2024.
Excellence. That's the present, and the future of PLMA.
In a phenomenal year, I'm grateful for your phenomenal participation and look forward to this continued involvement with PLMA.
Thank you and cheers to more shared successes in the new year!
President | Private Label Manufacturers Association | New York, NY