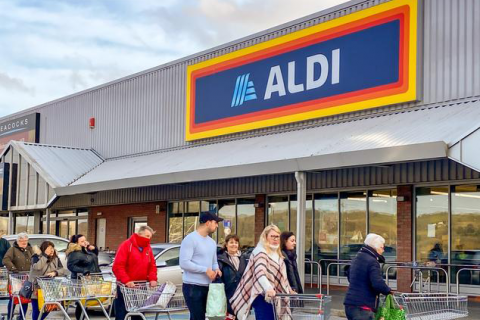 According to a report from Coresight Research, sales growth at discount grocers such as Aldi likely outpaced overall grocery sales growth in 2022. The report also said discounters will continue to gain market share and pressure traditional supermarkets in 2023 as well.
While growth slowed in the discount channel in 2020, it is expected to see sales growth of about 10% this year, vs. total grocery growth of an estimated 8.2%. Coresight predicted discount growth will exceed the total grocery market by several percentage points in each of the next four years.
"As a result of frugal shopping behaviors instigated by inflation, we believe discount channel growth will continue to outpace total [grocery] growth in 2023 and beyond," Coresight's U.S. Grocery Discounters report concluded.
The discount grocery segment is expected to continue to pressure traditional supermarket operators in part because of these chains' aggressive growth plans for new stores.
For example, Aldi has planned to open 150 new stores in 2022, and recently said it was on track to become the third-largest grocer in the U.S. by the end of this year. Grocery Outlet, which operates primarily on the West Coast, and Lidl, which operates along the East Coast, are both also opening new stores at a rapid pace. The Coresight report did not include dollar stores and mass merchants such as Walmart and Target.