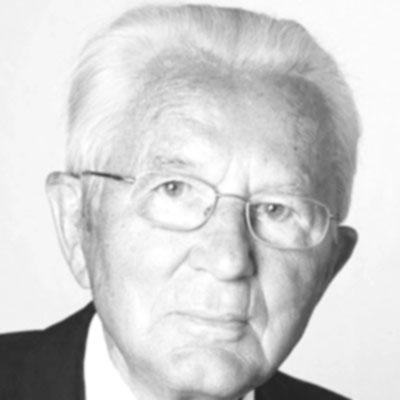 Karl Albrecht
Retailers
|
Aldi Group
|
Inducted 2009
Karl and Theo Albrecht were co-founders of the Aldi international chain of limited assortment discount stores, which is based in Germany. The brothers opened their first grocery store in 1948 in Germany and began operating under the name Aldi—an abbreviation for Albrecht Discount—in 1962. The two brothers had a plan to run a store unlike any other. The design of each Aldi store focused on the products and prices, not on displays, or frills. Typical features of the Aldi store are low prices, limited assortment and lower inventories when compared to other supermarkets. They telegraphy the virtue of frugality through smaller footprints than other formats, economy of scale—their stores also have fewer SKUs than most stores: about 1,500—and fewer frills or fancy in-store designs. Shoppers were required not only to bag their own groceries, but even to pay a small fee to get a grocery cart.
All of this had a singular focus: to save their customers money. Before long, their hard discount strategy gained a cult following and made Aldi one of the most successful retailers in history. It also helped draw new attention and respect to the private label industry. The Albrecht brothers saw that having their own brand products helped them guarantee low prices, not only by managing the prices of their products in stores, but by managing the costs of manufacturing as well. Their strategies helped Aldi and their customers alike to save money by eliminating or mitigating factors which inflated the prices of products. It must be emphasized however Aldi store brands won consumers' loyalty not only with low cost but because of their consistently high quality.
An irreconcilable disagreement between the brothers in the 1960's regarding sales cigarettes resulted in the brothers' dividing the company into Aldi Nord overseen by Theo and Aldi Süd overseen by Karl. It did not hinder the growth of Aldi however, and their shared no-frills, hard discount business strategy continued to expand outside Germany to markets throughout Europe and around the world, including the United States, China, and Australia. The first U.S. store was opened by Aldi c in Iowa in 1976. In 2020 the company had over 2,000 stores across 36 states. Aldi Nord also expended operation to the U.S. with Theo's outright purchase in 1979 of Trader Joe's, which shared many of same the economic ideal as it's new parent.
As of 2019 Aldi Nord and Aldi Süd together had over 11,000 stores in 19 countries around the world with estimated sales of $91 billion and plans for further international expansion. Their hard-discount concept and commitment to private brands have changed retailing forever, with companies like Lidl and Mercadona in Europe and dollar stores like Dollar General pursuing similar discount strategies to similar success.