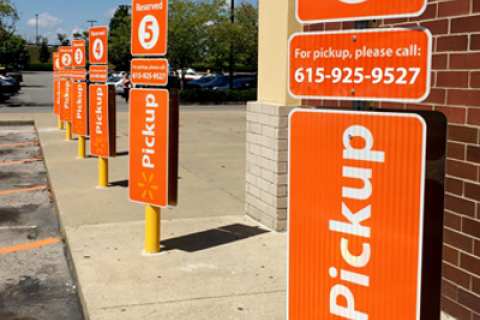 One in every four dollars Americans spent in 2021 on online purchases and then retrieved through either curbside pickup or inside of stores went to Walmart, according to Insider Intelligence.
That translates to an estimated $20.4 billion in sales, according to estimates by the market research firm formerly called eMarketer. In total, Walmart had a 25.4% share of all click-and-collect orders last year, according to estimates. This is also an increase from 2019, when Walmart click-and-collect share was 20.6%.
The firm also estimates click-and-collect sales in 2022 to increase by about 21%, reaching a total of $101 billion, and by 2023 click-and-collect sales are expected to grow around 20% to an estimated $120.15 billion.
Walmart's click-and-collect sales have increased in the past two years from an estimated $7.21 billion in 2019 to over $20 billion in sales in 2021. Click-and-collect has also been a major strategy in Walmart's competition with online retailer Amazon. The company has more than 4,700 stores in the U.S., excluding membership-based store Sam's Club while Amazon's store footprint is just a fraction of that, consisting of some 500 Whole Foods locations.