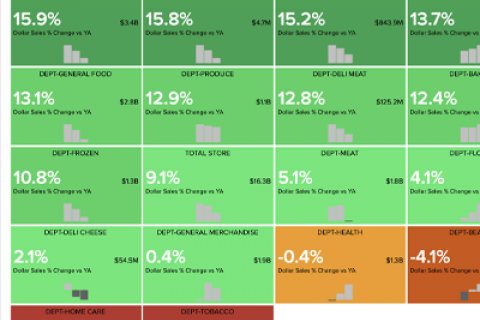 In this feature for PLMA's e-Scanner, Editor-in-Chief Tom Prendergast examines PLMA's exclusive IRI/Unify sales data. He compares the latest monthly sales figures vs results from the same month a year ago to see which categories and products are showing growth and opportunities for PLMA members and retailers. This month's column looks at the latest IRI statistics as of May 15, 2022.
The recent wave of store brand growth contains a great deal of good news for private label manufacturers.
IRI Unify, which is available to all PLMA members on plma.com, is a comprehensive database of dollar and sales products for departments, aisles, categories, and subcategories. Members can find information on 317 categories and 967 subcategories, as well as statistics from 17 departments.
In a brief look at IRI's latest data, many recent category-centric sales increases catch your eye. Over the past four weeks, for instance, wine sales have grown 18.3%; pet treats gained 13.8% reaching over $43 million in sales, and frozen appetizers and snack rolls were up 34%.
There is also strong private brand growth in food and non-food staples. Yogurt had 7.3% growth; rice is up just under 25%, reaching $44.6 million in sales; bottled juices showed a 5.7% increase. Foils and wraps grew 14.2%, reaching over $40 million in sales while kitchen storage products increased over 15% and now have $96.5 million.
Categories where store brands have traditionally been popular have also moved ahead. Facial tissue sales are up over 10% and toilet tissue increased 18.3% and now have over $213 million in sales.
IRI Unify data is available to any PLMA member and can be found at plma.com.