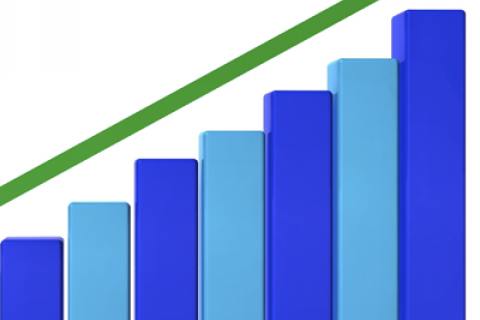 Tom's Data Dive is a monthly column written by Editor-in-Chief of PLMA's e-Scanner newsletter, Tom Prendergast. This story is featured in PLMA's April 22, 2023, e-Scanner newsletter.
As shown in our lead story, the private label sales numbers for the 1st quarter of 2023 had good news for store brands, continuing the record sales from 2022.
A deeper look at category data sheds light on how impressive this growth is. Of the 317 categories that Circana tracks for PLMA, 71%, or 224 sections, saw gains in dollar sales and 45%, or 144, had private label dollar sales increase by 10% or more. Seventy-five categories grew 20% or more in dollar sales in the first three months of 2023 while another 69 had growth between 10-19%.
The largest gains were in Women's Fragrances (+174%), Drinkware (+101%) and RTD Tea/Coffee (68%). Store brand cosmetic products showed excellent growth with Facial Cosmetics (33%), Lip (31%), Eye (20%) and Cosmetic Accessories such as makeup remover, false eyelashes etc. growing by nearly 10%.
Pet products show no signs of slowing down when it comes to store brands. Pet Food (36%), Pet Treats (18%) and Cat/Dog Litter (16%) all grew in dollar sales and combined had over $620 million in store brand sales in Q1 alone.
Unit sales movement in Q1 also confirmed store brand strength. Among the 317 categories, 121, or 38%, showed growth – a strong showing considering the poor performance of unit sales by both store brands and national brands over the past few years. Of these 121 categories, 6% had unit growth above 20% while 7% had unit growth between 10-19% and 26% had unit sales growth between 1-9%.
Not surprisingly, many of the largest Q1 unit sales growth categories matched the dollar sales categories with Drinkware (117%), RTD Tea/Coffee (78%) and Women's Fragrances (78%) topping the list.
Other gains were in Hair Appliances (36%), Pet Food (21%), and Cold Cereal (20%). Products in the cosmetics category showed unit growth as well with Eye (17%), Facial (15%) and Lip (15%) leading the way.
Category size can vary widely – with some sales in dollars and units in the millions while others could have sales in the thousands. However, when you look at Q1's overall picture, store brands continue to gain in food and non-food categories and in many which have traditionally been dominated by national brands.
To find out more IRI Unify data is available to all PLMA members and can be found at plma.com where these statistics and sales of the 317 categories and 967 subcategories can be found.