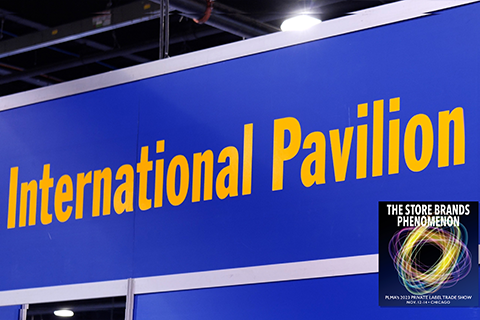 Authentic Specialty Products from 50 Countries at PLMA's 2023 Private Label Trade Show, Nov. 12-14 in Chicago
NEW YORK (September 14, 2023) – At a time when consumers are on the hunt for authentic global foods, flavors and ingredients, 45% of the exhibit floor at PLMA's 2023 Private Label Trade Show will be filled with companies from outside the U.S.
More than 700 specialty food and nonfood exhibitors from nearly 60 countries in Europe, South America and Asia will be featured in over 30 national pavilions and elsewhere on the show floor at the largest event for store brands in North America, November 12-14 at the Donald E. Stephens Convention Center in Chicago.
"The 2023 Private Label Trade Show will reflect the rise in popularity of international cuisine by including an expanded assortment of ethnic foods, beverages, wine, confections and nonfoods," said PLMA President Peggy Davies.
New pavilions this year include Belgium (Wallonia Region),Brazil, Estonia, Georgia, Lithuania, South Korea, Thailand, Ukraine and the U.K.
They join expanded pavilions for Canada, Italy, France, Australia, Turkey and Serbia, along with pavilions for Belgium (Flanders region), Chile, China, Colombia, Denmark, Greece, Guatemala, Israel, Jordan, Peru, South Africa and Spain.
Among products on display:
Wines from South Africa
Flavored liqueurs from Portugal
Frozen and refrigerated meals
Belgian chocolates
Fruits from Chile
Rice from Thailand and Brazil
Greek olives and more
In addition to food and beverages, a large number of international nonfoods will be showcased. In fact, the international presence of nonfoods at the show has grown by 75% over last year. This includes cookware from Italy; beauty and cosmetic products from South Korea; laundry detergents from Turkey; skincare from Spain, and household wipes from China.
The focus on international products comes at a time when retailers are expanding their ethnic private brand product lines. Among the examples: Hy-Vee has a full line of authentic Italian pasta, sauce, oils and other products under the Gustare Vita private brand, while Lidl sells authentic Belgian chocolate as part of its Preferred Selection line. And Aldi has launched new Specially Selected wines from Argentina, Italy, France, New Zealand and Spain.
Along with authentic international products, PLMA's 2023 "THE STORE BRANDS PHENOMENON" Private Label Trade Show will feature dozens of other product categories, including wine and spirits; baby care essentials; shelf-stable groceries; plant-based foods, beverages; fresh, frozen and refrigerated products; organics; foodservice products; beauty and cosmetics; pet care; personal and self-care; household and laundry; OTC pharmaceuticals; vitamins and supplements; paper and plastics; kitchenware and general merchandise.
This year's show will have more than 1,600 exhibitors, a record number, and 5,000 attendees.
For more information on "THE STORE BRANDS PHENOMENON" trade show, contact PLMA at +1 212 972-3131, email info@plma.com or visit www.plma.com.
About PLMA
The Private Label Manufacturers Association (PLMA) is a non-profit trade organization founded in 1979 to promote the store brands industry. With executive offices in New York and International Council offices in Amsterdam, PLMA represents more than 4,000 member companies worldwide. In addition to the Annual Private Label Trade Show in Chicago and its World of Private Label Trade Show in Amsterdam, PLMA provides annual conferences, executive education and professional development opportunities. Follow PLMA on plma.com, plmainternational.com, and on social media: