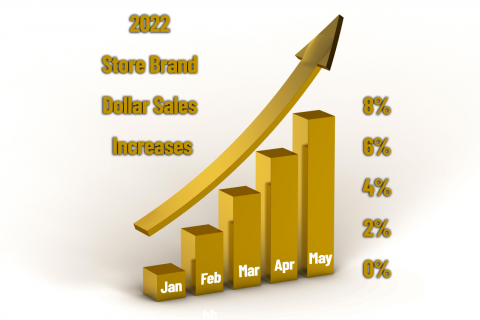 Private brands continue to show strong growth. Through the first five months of the year, according to IRI, store brands dollar sales have surged 7.8% while national brands increased only 5.0%.
The five-month aggregate number was powered in part by the latest monthly performance. In the latest numbers from IRI, ending May 15, store brands dollar sales grew by 8.7% compared to the same period a year ago, more than doubling national brands growth of 4.1%. While each month of 2022 has shown vigorous store brand growth, the past three months have been especially robust.
Store brand dollar sales grew by 9.5% in April compared to a year ago, double the national brand improvement of 4.6%. In March, sales grew 8.9% while national brand sales clocked in at 5%. On average, store brand dollar sales have averaged 9% growth in the past three months. 
In the first two months of 2022, February dollar sales were 6.8% and in January, private brand dollar sales growth 5%, and ahead of national brands at 6.5% and 4.6%, vs the same period in 2021.
Overall, dollar share in 2022 stands at 18.1%, an increase over the 17.7% in 2021 for store brands in all the major channels. Unit sales continue to decline, however. They have fallen an average of 2.4% so far in 2022 but at a slower pace than national brands which saw an average 3.7% unit sales drop this year.
For May, 13 of 17 departments showed store brand dollar growth, with only deli cheese, beauty, home care and tobacco showing declines. While liquor and floral showed the strongest dollar growth with 23.3% and 19.8%, respectively, and other categories were not far behind.
Beverages increased 19.4%, refrigerated products grew 14.9% general food came in at 9.5% and frozen showed a 7% increase.
The most recent statistics are available for members at plma.com through the IRI Unify section. Members can also find information on 317 categories and 967 subcategories, as well as statistics from 18 departments.
PLMA's 2022 Private Label Report, which is available to all, highlights private brand sales statistics for 2021 and can be downloaded from plma.com under "About the Industry / Research, Reports and Publications."