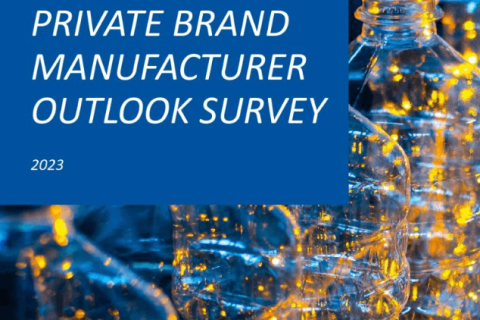 According to a survey by Daymon, despite continued challenges in the industry, private label manufacturers are increasingly optimistic about the growth of private brands. In turn they are prioritizing investment in capacity, innovation, technology, and sustainability to stay competitive.
The 2023 Private Brand Manufacturer Outlook Survey found manufacturers are also showing resilience by diversifying supply chains and negotiating price increases.
One highlight of the report was the positive view companies have for the future of store brands. Manufacturers are increasingly optimistic about the growth potential of private brands and are likely to continue investing in product development and collaborating with retailers to further expand private brands in the market.
Manufacturers are also planning strategic investments over the next year to remain strong and bring differentiation to the market. The top two priorities are product innovation and increasing capacity, according to the survey. Manufacturers understand that innovation is vital for sustaining growth and recognize the importance of optimizing their production capacity to achieve economies of scale and support business expansion strategies.
Manufacturers are increasingly prioritizing sustainability as one of the key focus areas for their company investments soon. Sustainability has become a business imperative, and manufacturers recognize that their efforts should extend beyond their own operations.
However, as costs have been high for ingredients and commodities, long-term concerns regarding energy and labor conditions will persist. The survey suggests manufacturers will focus on risk management strategies, diversify supply options, and strengthen relationships across the value chain.
In total, when it comes to store brands, the study found manufacturers are optimistic about the growth of the industry and are focusing on investments in capacity, innovation, technology, and sustainability to help continue growth.