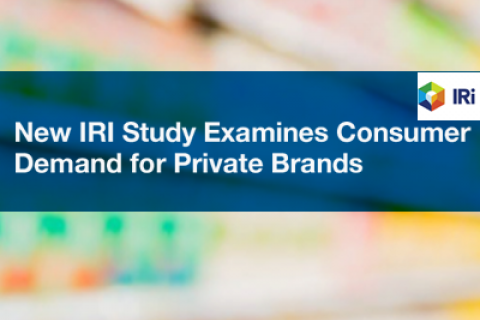 On January 20, PLMA will hold the latest in its popular Lunch & Learn program with an in-depth look at IRI's new study about the growing consumer demand for private label. The program is free for all members and qualified retailers and will be held for one hour beginning at 12:30 PM EST.
Called "Consumer Demand for Private Brands," the new IRI study states the most successful store brand programs function like CPG companies, including retailer commitment to supporting their brands beyond production with the four P's: packaging, promotion, placement, and pricing.
Mary Ellen Lynch, Principal, IRI Center of Store Solutions Group, will host the seminar and will analyze some of the factors that are driving private brand expansion across all retail channels. She will profile consumers who display high, medium, or low loyalty to store brands and those with similar levels of loyalty to national brands. Lynch will also explore the emerging store brand landscape and the opportunities it creates for retailers to build demand for their brands.
Lynch is an experienced strategic consultant to big brands, innovative brands, retail and industry publications and other organizations, and is a recognized success at expanding strategic relationships for mutual growth through commercialization. 
"Our Lunch & Learn program on IRI's new thought leadership study will contribute to increasing strategic collaboration that can open doors to new relationships and build lasting trust among store brand manufacturers and retailers," PLMA President Peggy Davies said. "Don't just break for lunch, come learn with us."
A Q&A session will also be conducted. For Lunch & Learn registration information, please contact education@plma.com