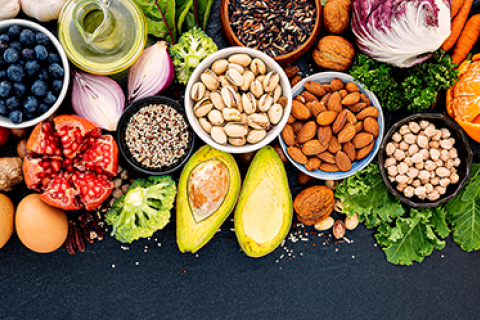 F O R  I M M E D I A T E   R E L E A S E
CONTACT: press@plma.com
PLMA 2021: Functional Ingredients Offer a Competitive Advantage for Store Brands
NEW YORK (September 15, 2021) – It's what's inside that counts. That's an increasingly popular consumer mantra when it comes to choosing groceries.
From probiotics and Omega-3 fatty acids to hemp and blueberries, ingredients that offer added benefits to support immunity, gut and brain health, energy levels, and stress management are in high demand.
In response, the Private Label Manufacturers Association today announced that a wide array of on-trend ingredients will be on exhibit at its 2021 in-person Private Label Trade Show, November 14-16 in Chicago.
The global functional food industry is expected to reach $268 billion in 2027, from $178 billion in 2019, according to Allied Market Research.
Now more than ever, consumers seek out value-added food and beverages as a first step to taking control of their health. Functional ingredients have become a competitive advantage for store brand marketers.
Supermarkets, drug stores, club stores, mass merchandisers and other food retailers have expanded their assortment of store brand products that herald ingredients with functional benefits.
Examples include Kroger's Simple Truth instant oatmeal with probiotics and Simple Truth almond butter with chia, hemp and other superfoods; CVS' Live Better by CVS Health apple cider vinegar with blueberry, elderberry, pomegranate and other superfruit; and Albertsons' Signature Select antioxidant juice with cherry, pomegranate and elderberry.
Along with food, functional ingredients play a pivotal marketing role in a wide range of nonfoods as well, such as CBD topicals and extracts. For instance, The Vitamin Shoppe has launched CBD hemp extract products under its Vthrive and Plnt private brands.
"Shoppers desire products containing ingredients that support their health and well-being. They choose store brands because there has been tremendous ingredient innovation that promotes a healthy lifestyle," said PLMA President Peggy Davies. "The Private Label Trade Show will reflect this powerful trend."
About PLMA:
The Private Label Manufacturers Association is a non-profit organization founded in 1979 to promote the store brands industry. It is the only trade group of its kind, representing 4,500 member companies in more than 75 countries. In addition to annual, industry-defining trade shows in Chicago and Amsterdam, PLMA offers its members annual Leadership and Washington conferences, executive education and professional development programs, original consumer and market research, quarterly category and channel sales data from Nielsen, and digital media platforms, including exclusive news coverage from PLMA Live! and the e-Scanner monthly industry newsletter. Follow PLMA on Twitter and LinkedIn