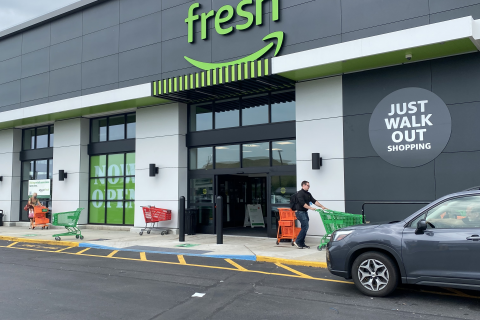 Private brands play a big role in Amazon's fast-growing brick-and-mortar supermarket chain. Happy Belly, Amazon Kitchen, Fresh, 365 by Whole Foods Market and Aplenty are given prime shelf space throughout at the new Amazon Fresh store Oceanside, N.Y. The 47,000-square-foot store is the first Amazon Fresh in New York. It joins about 36 others across six states and Washington D.C. that have opened since the e-commerce giant launched the banner in August 2020. More stores are planned.
Themed endcap displays are strategically used to promote Amazon's own brands. On opening day July 14, endcaps were devoted to 365 condiments, Aplenty salty snacks, and Happy Belly baking products.
The store features Just Walk Out technology. Overhead sensors and cameras recognize products that shoppers take off shelves. Shoppers can skip the checkout line and simply walk out of the store with their groceries. Their Amazon accounts are automatically charged after they leave the store.