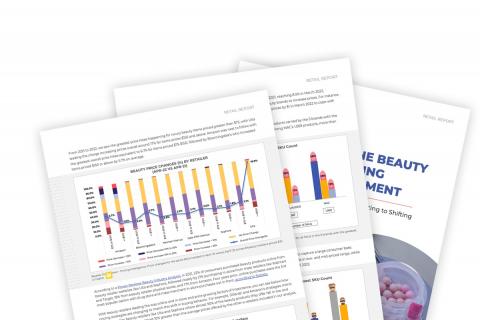 Retail data firm DataWeave has released a new report outlining how inflation has impacted the beauty sector and how retailers are adapting to retain customers.
The report, titled "Optimizing Online Beauty Sales in a Changing Business Environment," was a comprehensive analysis of nearly 200,000 SKUs and examined how brands and retailers are adjusting their pricing on beauty items as inflation continues to impact the economy.
DataWeave's survey found a strong online demand for beauty CPGs, with top brands offering more low and mid-tier priced products. The report also found a strengthening digital brand presence was a key element to improving sales.
DataWeave analysts predict that these trends are likely to continue as shoppers make choices in the months ahead on spending as price increases across consumer categories impact their budgets.
The skincare category in particular could be impacted positively especially if U.S. beauty shoppers choose skincare products over cosmetics, the report authors suggested that retailers prioritize their skincare inventory.
"Availability and affordability were buzzwords for top beauty brands, who maintained superior in-stock availability through 2021 and into 2022," said Krishnan Thyagarajan, president and COO of DataWeave.
"Across the major beauty brands and retailers, we analyzed, the defining trends we identified are a shift toward producing more low and mid-tier items and an expansion of investments in tech-driven consumer marketing."