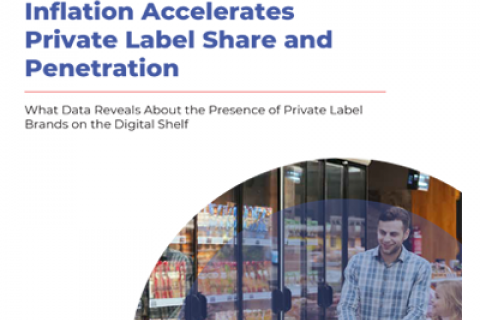 A study from research analytics firm DataWeave says continued inflation is driving private label growth. The report, titled Inflation Accelerates Private Label Share and Penetration, looked at top private label brand penetration, ranks brands by category, and tracked price changes, along with other methods.
According to the report, the grocery categories with the highest inflation saw the most private label penetration. Private label brands gained in volume share in high-inflation food categories like frozen foods, meat, and poultry in 2021.
While the total SKU count for store brands is much smaller as an overall category, meat had the highest share of private label brands with 25% within the analysis. The presence of private label products was the lowest in alcohol & beverages (7.2%) and beauty & personal care (7.5%) categories. The study surmised this was due to a strong preference for national brands among products in those categories.
DataWeave also found that on average, retailers in the U.S. carried more than 4,500 private label products online and had private label brand penetration of more than 13%, with the category expected to grow.
In SKU count, the study reported eight of the top ten brands with the highest SKU count were private label brands. Publix brand and Signature at Safeway had the highest share of total private label SKUs with 86% and 85% percent respectively, while brands like Great Value and Threshold had shares of 33% and 23% percent, respectively. Together, the two brands made up 56% of the total private label grocery SKUs on Walmart.com.
"Across the 10 major grocery retail chains we analyzed, private label brands were more economical compared to national brands, which is likely one of the key factors contributing to the private label's increased penetration across grocery categories," said DataWeave CEO Karthik Bettadapura. "We will continue to watch private label closely, as it seems to be impacting many decisions across the retail value chain, from margins to merchandising."
For a link to the full report, click here.