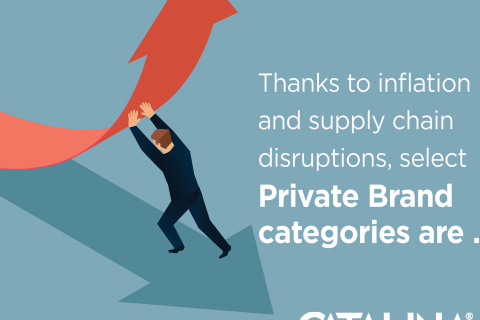 According to a new study from Catalina, inflation has consumers seeking out private label brands, especially in categories such as baking mixes and soup.
"The data clearly indicates that shoppers have become more price-sensitive and value-driven in recent months," said Sean Murphy, the firm's chief data and analytics officer.
The private-label growth highlights many of the current consumer trends, Catalina noted.
For example, private label categories that saw double-digit sales increases included baking mixes (+40%), soup (+17%), prepared foods (+12%), dried vegetables (+11%), and canned fish (+10%), indicating that consumers are seeking out convenient options to help them prepare multiple meals throughout the day, according to Catalina. While the report found that pandemic-fueled baking trend may have begun to wane, shoppers are still seeking out small indulgences, such as private-label baking mixes to help fill their need for cakes and cookies.
"The rise in unit sales of store brand staples like canned fish and soup indicates consumers are looking for affordable lunch and dinner solutions,"​ said the report. "While the pandemic-fueled trend of scratch baking has declined, baking mixes remain popular, with shoppers increasingly opting for store brand mixes."​
Other categories that showed increases during the same 6-month period vs. one year ago included baby food and cereal, which experienced more modest unit sales growth of +6%. The study looked at sales during the same 6 month period between January 1 to July 17, 2022 vs. the same period last year.