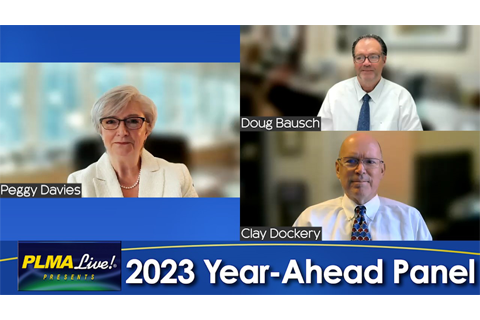 "Product Quality" Ensures Continued Store Brands Growth
PLMA Board Leaders Express Strong Optimism During Annual Roundtable
The improved quality of store brands over the last decade ensures that economy-driven new purchasers of the products are likely to stick with them even when better times return, said two PLMA board leaders during the trade association's annual look ahead roundtable.
The panelists, Doug Bausch, VP of sales and marketing at OTC pharmaceuticals manufacturer LNK International, Inc., and current chairman of PLMA's board of directors; and Clay Dockery, VP of corporate brands at Massimo Zanetti Beverage USA, a former chairman who serves as ex-officio, kicked off the discussion with strong optimism about future store brand sales and pointing to product quality as the key.
"The sweet spot for store brands is quality and with that will follow significant sales," declared Bausch.
While positive in the wake of record sales in 2022, both long-time industry executives also warned that store brands are underdeveloped in e-commerce platforms where national brands have a leg up when it comes to the most favorable product placement and presentation. "It is critically important for us to work together as an industry to find solutions to overcome this slow start," offered Dockery.
Educating the consumer and highlighting store brand quality that is equal or better than comparable national brands while demonstrating price comparisons is essential to leveling the playing field, explained Bausch. He added top of page searches that include the store's own brand next to national brands could also increase awareness among online shoppers.
Dockery said, "We are losing consumers on the first sale, since E-shoppers favor speed over price and gravitate to familiar brands without considering the price benefit of store brands." As an example, he pointed out that in a short time the coffee category has become dominated by online subscription services.
With work-from-home now the norm, the panelists' suggested that chains have an opportunity with "a very captive audience" to reach consumers who are spending more time online and not rushing through the retail environment and selecting a product largely because of habit or packaging appeal and time constraints.
The roundtable was moderated by Peggy Davies, PLMA president, and appeared on the association's PLMALive! news and information website. To view the 2023 Year-Ahead Panel, please click here.