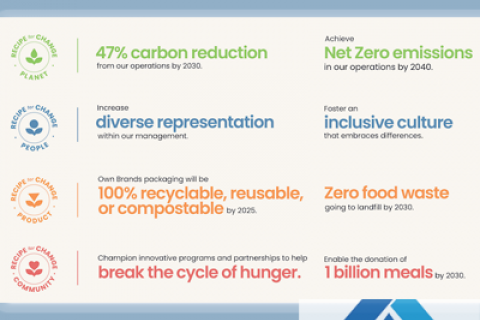 Albertsons has revealed a new framework for change as part of an effort to continue its environmental, social and governance (ESG) company goals. 
This change will be seen in its private brands. Albertsons is planning that by the end of this year its Own Brands packaging will include standardized recycling communications. By 2025, all Own Brands product packaging will be 100% recyclable, reusable or industrially compostable and plastic packaging will also include 20% recycled content.
Vivek Sankaran, CEO of Albertsons, said "As a long-standing neighborhood grocer, we have an ongoing commitment to leverage our resources and expertise to support the communities we serve and the planet we share."
"Today, we are unveiling ambitious and measurable goals that will challenge us to be even more deliberate and creative about how we lead positive change," Sankaran said.
Albertsons Chief Sustainability and Transformation Officer Suzanne Long, who has been leading the company's ESG efforts for two years, will oversee the implementation of the new goals.
Albertsons plans to achieve the Science Based Targets initiative-approved carbon emissions reduction goals by 2030 and encourage its suppliers to also set science-based carbon reduction targets in the next four years. The chain also aims to achieve net-zero emissions throughout its operations by 2040.