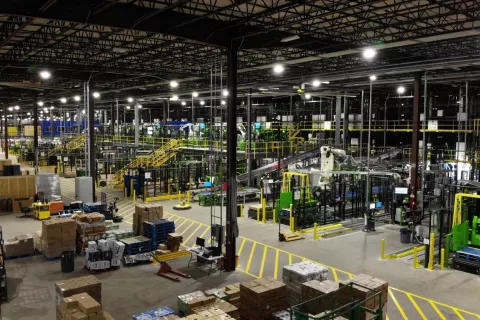 Walmart has announced plans to automate all its regional distribution centers under an expanded partnership with artificial intelligence (AI) and robotics specialist Symbotic.
Walmart will deploy Symbotic's robotics and software automation platform at all 42 of its regional distribution centers. This follows the announcement last July that Walmart would implement Symbotic's technology in 25 regional distribution centers.
The system is a fleet of fully autonomous robots and AI-powered software that will cut the time it takes to unload, sort and stock freight in Walmart stores while also boosting warehouse capacity, according to Symbotic.
Other benefits include making the process simpler and safer and creating new, tech-enabled jobs which offer widely applicable skills in robotics and technology, Symbotic said.
According to the companies, the installation of the platform in all 42 sites is expected to be completed over the next eight years. Walmart said it has already begun embedding Symbotic's technology in selected regional DCs throughout its network.
Walmart has been increasing its supply chain capacity, including the use of automation, to help meet rising demand, improve the customer experience, and raise productivity.
"The need for accuracy and speed in the supply chain has never been more visible, and we're confident that now is the time to move even faster by scaling Symbotic's technology to our entire regional distribution center network," David Guggina, senior vice president of innovation and automation at Walmart U.S. said in a statement. "Using high-speed robotics and intelligent software to organize and optimize inventory, the Symbotic System helps us get products to our customers quickly and seamlessly by revolutionizing how we receive and distribute products to stores."