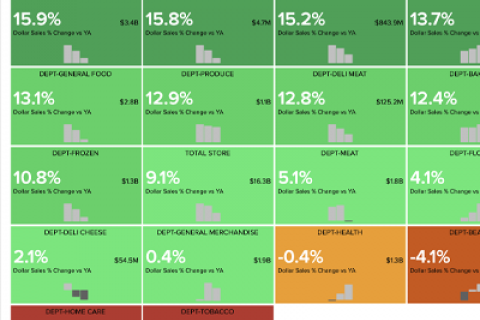 In this monthly feature for PLMA's e-Scanner, Editor-in-Chief Tom Prendergast examines PLMA's exclusive IRI/Unify sales data. He compares the latest monthly sales figures vs results from the same month a year ago to see which categories and products are showing growth and opportunities for PLMA members and retailers. This month's column looks at the latest IRI statistics as of April 17, 2022.
Categories with tens, or hundreds, of million dollars' worth of store brand sales often grab the industry and media spotlight. Likewise, categories with sales of $5 million or less are often overlooked.
That could be a mistake, as private brand growth in some of these sections could be a leading indicator of growth and opportunity to come. Not to mention that one day they could become larger categories themselves, boasting tens, even hundreds of millions in store brand sales.
Let's take a look at some of them.
For the four-week period ending April 17, vs the same period a year ago, a number of smaller categories are showing strong store brand gains, and they reflect a wide selection of products.
For instance, sales of hair appliances, like hair dryers and curling irons, have risen 347% in the latest four-week period and reached $1.2 million in dollar sales. This follows 786% category growth over the past 3 months alone.
There are other non-food categories worth a peek. Hair spray/spritz has growth 27% in the past 4 weeks and while sales are under $500K category sales are increasing. Deodorant climbed 29% in dollar sales during the same period and reached $1.3 million in sales. Given the overall size of these categories, it could offer an opportunity for room to grow for store brands.
In food, drinks and drink additives catch the eye. Powdered milk reached $3.3 million in sales with 81% growth; sports drinks increased 59% to reach sales just under $5 million and milk flavoring/cocoa mixes grew 37% and hit $2.9 million in sales.
Other food products in demand included frosting, which rose 53% and attained $1.2 million in sales while rice/popcorn cakes rose 25% and had $3.9 million in sales.
There are many other sectors showing private brand growth over the past month, this is just a sample.
If you want to dive in yourself, all these statistics and more are available to members through IRI's Unify statistics section on www.plma.com.