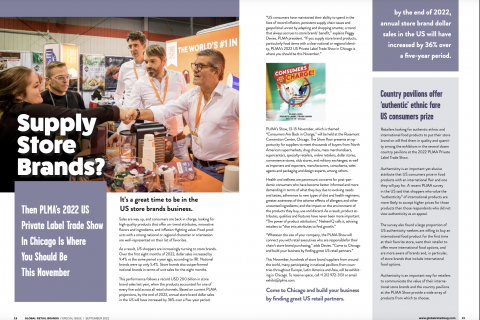 PLMA is the sole subject of the September special issue of Global Retail Brands, a trade publication with a worldwide distribution of 7,000 that describes itself as "your guide to the private label universe." The 33-page issue details PLMA's new survey, "Will Europeans Ever Shop the Same?" The survey, which was conducted in eight European countries and collected consumer attitudes on their shopping habits and behavior in the post-pandemic era.
The issue also includes coverage of PLMA's 2022 Private Label Trade Show, set for November 13-15 in Chicago. GRB publisher Phillip Russo said, "The findings and their implications are so significant, we were compelled to create this special edition and share the results with the industry."
Global Retail Brands is published four times a year by Kent Media Group and is distributed to senior level executives at the top 250 global retailers. Additional distribution occurs at leading private label fairs and trade shows. Click here to view the issue.