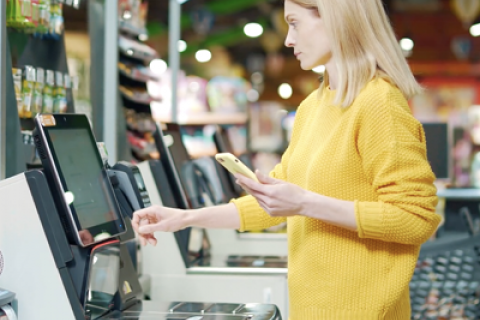 A report from VideoMining has found that shoppers are increasingly embracing self-checkout, with usage increasing by 53% in five years and by 17% from 2020 to 2022. So much so that self-checkout terminals are now the dominant grocery checkout format, accounting for 55% of transactions in 2022, according to the company. 
At the end of 2022, self-checkout made up 48% of all registers, and shoppers are continuing to seek out these machines as they become more accustomed to them, according to VideoMining study. 
The shopper insights firm, which works with retailers including Target, Walmart, and Family Dollar, says the increase in the popularity of self-checkout is derived from the option being more available as shoppers gravitate toward self-service tools.
According to VideoMining, grocers have also expanded self-checkout services to improve the customer experience: 70% of shoppers did not have to wait in line at all in 2022, which is a significant increase from only 19% of shoppers in 2017.
Self-checkout has also boosted grocers' front-end sales. The report states there was a 162% jump in dollars per 100 store visitors sold from self-checkout merchandising in 2022 compared to 2020. Even with the wait time in self-checkout lanes being shorter, shoppers are engaging with products offered at the front end of the store at a higher rate, according to the study. 
Despite the growing success of self-checkout, traditional checkout lanes still account for a higher number of overall sales, says the study. The traditional checkout option outperformed self-checkout lanes by 38% in terms of dollars per 100 store visitors in 2022.