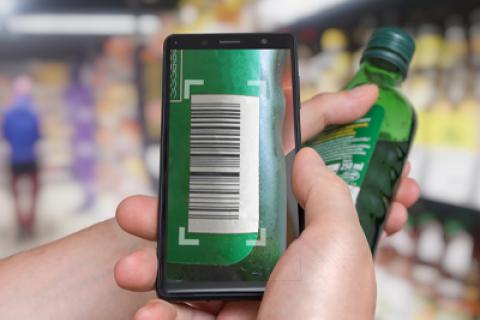 While many retailers offer self-scanning and self-paying to customers, some are taking technology in shopping one step beyond.
In Germany, Rewe has opened a hybrid supermarket that allows consumers to do grocery shopping without a payment process at the counter. It is called hybrid because customers decide for themselves whether to pay at the counter as usual or shop autonomously without a checkout process. The store is called "Pick & Go" and is located in downtown Cologne.
Customers can use a special app to enter the store. They then do their grocery shopping and at the same time bag their items. At the end, they simply walk out of the store and an invoice will appear in the app.
From the outside, the test store looks like a regular supermarket but inside it is full of technology. There are intelligent cameras and sensors on the shelves and all customer movements are detected by computer vision. Rewe has worked on the project for two years and says that its main focus is to enhance the shopping experience of customers while protecting their privacy.
The technology is now being tested by employees and the store will open up for customers in late summer.
In Portugal, Sonae just opened a 100% cashierless store under the Continente Labs banner in Lisbon. The retailer invested more than 1 million euros in its construction, equipment and technology. It is equipped with about 230 cameras on the ceiling and over 400 shelf sensors which associate the products picked up (and returned) from the shelves with each customer, creating virtual shopping carts, with payment being processed automatically via a connected card.
Customers need to download the Continente Labs application and register with an associated bank card. To enter the store, they open the app and scan the displayed QR code in the turnstile area.
The store has a sales area of 150 square meters and will be manned with six employees to receive goods, restock items and ensure hygiene and safety in the operation.
Both Rewe's and Continente Lab's concept stores resemble the Amazon Go stores that offer "Just Walk Out Shopping". Amazon operates more than twenty Amazon Go stores in four cities in the US and this year launched in the UK with 4 stores branded as Amazon Fresh.