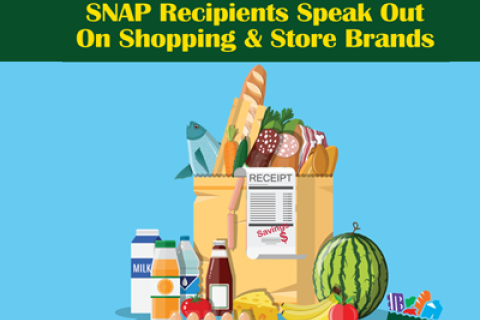 A new study from PLMA reveals that store brands can be a powerful ally for SNAP recipients to buy more products with their benefits, and for grocers to increase their share of the huge federal food assistance program.
SNAP is a big piece of the U.S. grocery business. As of April, there were 42 million persons and 22 million households enrolled in SNAP. The average per person and per household benefits were $203 and $386, respectively. Benefits can be used to purchase most foods and beverages but cannot be used to buy non-food items, such as vitamins and diapers. Combined, supermarkets and super stores redeem 82% of annual SNAP benefits while comprising only 15% of the program's 250,000 authorized retailers. That amounts to $65 billion SNAP dollars spent in those retailers.
The PLMA study found SNAP recipients are strongly inclined to purchase store brands and have a deep awareness of the brands and products. The study also revealed beneficiaries have been satisfied when buying private label products in the past. About three in ten recipients purchase store brands at a high rate each time they use their SNAP benefits.
"The purpose of the study, which was prepared exclusively for retailers by PLMA, is to determine the habits and attitudes of recipients towards shopping in general and store brands in particular and with those findings produce a marketing roadmap retailers can use to encourage SNAP customers to spend more of their monthly benefits on store brands, thereby stretching their food dollars," PLMA's President Peggy Davies explained.
Respondents also expressed a very favorable opinion of store brands when asked to compare them to national brands on six important product attributes. They rated store brands "better than national brands" on all but one.
However, an almost equal number buy national brands at the same rate, supporting the study's conclusion that store brands have ample room to grow in terms of sales among SNAP participants. If more beneficiaries did buy store brands, it would save them money and thereby help them obtain more products for their families. It could also benefit retailers if more money was spent on their store brands.
The savings accrued by opting for store brands over national brands can be significant. In related research, PLMA sponsored the purchase over a four-week period of multiple, typical market baskets consisting of about three dozen SNAP eligible products. The average savings realized when store brand products were purchased instead of the national brands were 38% when shopping in a major supermarket located in the northeast and 50% when shopping in a leading national mass merchandiser.
The PLMA survey also discovered most recipients are careful shoppers. Eight in 10 "always or frequently" buy eligible food products when they are on "sale in their favorite store," while another eight in 10 typically use "all or nearly all" of their benefits each month. Sixty percent said they would find it "helpful" if SNAP items were marked as such on supermarket shelves. In addition, if their favorite stores were to accept SNAP benefits for online shopping, as more and more retail chains are beginning to do, almost half in the study said they would "always" or "frequently" use such a service.
The report comes at a time when SNAP participants have recently reached record numbers in the wake of the recession and the Biden administration is implementing plans to expand the program with an increase of 25% to recipients, which would expand the program by billions of dollars spent in retailers.
"Increasing their purchase of store brands with SNAP benefits is up to individual shoppers, of course," adds PLMA's Davies. "Still, U.S. retailers, consumer groups, NGOs and even federal and state agencies can play an important role by pointing out to recipients that they can stretch their benefits significantly by choosing store brands over national brands."
The study, titled "Stretching Food Benefits: SNAP Recipients Speak Out on Shopping & Store Brands," was based on data collected by Surveylab, a global leader in online research. A representative nationwide sample of more than 500 SNAP recipients participated in the survey, which was conducted in early 2021.
For more information on the study, please contact press@plma.com