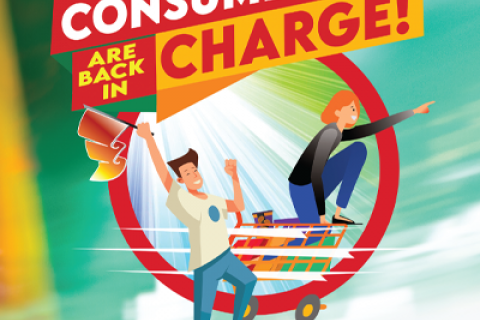 There are only two months until PLMA's 2022 Private Label Trade Show, November 13-15, at the Donald E. Stephens Convention Center in Chicago. Exhibitors and retailers are primed to return to the event for the first time since 2019.
The theme of this year's show this year is "Consumers are Back in Charge." Now more than ever, American shoppers are demanding high quality products that offer healthier choices, on-trend attributes, unique formulations, enviro-friendly features, and inflation-fighting value. This spells opportunity for food and non-food store brands.
As of September 6, PLMA had nearly 1,000 exhibiting companies participating in the show. Those companies represent over 1,700 booths. By the time the show opens, PLMA is projecting 1,300 exhibitors and more than 2,000 booths, making the PLMA show the largest Private Label event this year in North America.
Over the first eight months of 2022, sales grew by 9.4%, almost twice the increase of national brands, reported IRI. Store brands also outperformed national brands in unit sales for the eight months. The gains are widespread: In the last three months, 15 of 17 departments saw store brand sales growth.
Based on PLMA projections and IRI data, by the end of 2022, annual store brand dollar sales will have increased by 36% over a five-year period.
Dedicated to helping retailers, wholesalers and others make the most of their time when visiting the show, PLMA offers a range of pre-show services and special on-site exhibits.
These include:
PLMA's Matchmaker™ online service

lets registered retailers arrange appointments with exhibitors in advance of the show.

PLMA's New Product Expo

displays the latest product innovations submitted by exhibitors.

PLMA's Idea Supermarket

® for best-in-class private label branding concepts, products, and packaging from retailers across the country and around the world.

PLMA's Annual Salute to Excellence Awards

display. The annual Salute to Excellence Awards give recognition to outstanding new store brand products.

PLMA's

Show Navigator is a comprehensive resource for the show where all registrants will find the following details:

Exhibitors

Product Announcements

PLMA's Idea Supermarket

Trade Show Facts

Show Floor Plan

Sunday Afternoon Seminars
Show Navigator is launched 30 days prior to the show. During the show, PLMA's Show Navigator can be used by smartphones or tablet to allow attendees to move around the show floor efficiently. This tool is also available for many months after the event.
For more information, go to www.plma.com, or call us at +1 212 972-3131 or e-mail info@plma.com.