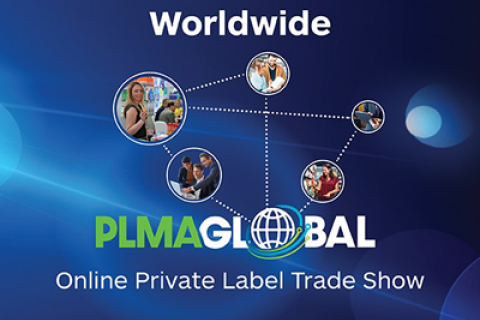 The Private Label Manufacturers Association is launching an online trade show called PLMA Global. It is a newly imagined, worldwide event that will combine the exhibitors and buyers from the organization's industry-defining, in-person Chicago and Amsterdam events. PLMA Global will take place March 28 to 31.
"The disruptive effects of the pandemic on retailing and the store brands industry continue. Foremost among today's challenges is the reliable flow of products from source to shelf," explains PLMA President Peggy Davies.
"The platform will support the connection between PLMA member-exhibitors and store brand buyers representing leading supermarkets, drug chains, mass merchandisers, supercenters, specialty retailers, dollar stores, club stores, convenience stores and other formats. We believe that during the last four days of March, our platform will become the digital hub of the retailer brands industry," said Davies.
PLMA Global will add various online features for both exhibitors and visitors. The show will support real time conversations and meetings with features like one-on-one or group video calls, product demos, screen sharing, messaging, downloadable documents and videos and more. Buyers can search for suppliers by name, product category, description, or marketplace trend, or by country, continent, or any combination thereof. A preliminary list of registered buyers and visitors will be sent to exhibitors about two weeks prior to the event.
It is a non-stop event. Buyers and exhibitors will be able to meet live online 24/7 during the event and the platform will remain open for another three months for follow-up, or for a new visit by buyers who could not log in during formal show days. During this period, all connectivity tools -- including video call and appointment scheduling -- remain active, allowing for post-show access.
Efficient appointment scheduling is the most important feature of the virtual event which will allow buyers to join the platform as it fits their schedule and time zone. Buyers can request video call appointments from exhibitors even before the show opens. Calls can be one-on-one or group calls involving multiple participants representing store brand suppliers as well as retail chains.
Exhibitors receive one entire webpage on the platform and will be able to display images of their featured products along with detailed descriptions. Additional company and product information can be shared through downloadable documents or promotional videos, including keywords.
For any questions regarding PLMA Global, please call +1 212-972-3131 or email at plmaglobal@plma.com