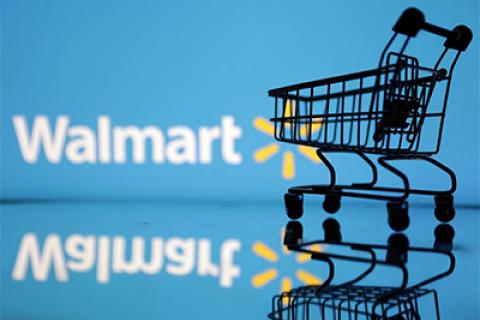 According to a new report from Brick Meets Click, Walmart accounted for 36% of all e-commerce grocery sales during the third quarter.
The study, "Measuring the Online Grocery Market: eGrocery Share in the U.S.,"   which was sponsored by Mercatus, reported Walmart's new market high was up five percentage points from the same period in 2022. In addition, another report from Numerator said Walmart had captured 25.2% of all grocery sales for the first half of 2023.
"The combined effect of price inflation and the expiration of COVID financial supports has triggered a flight-to-value as purchasing power remains under pressure," David Bishop, partner at Brick Meets Click, said in a statement about the report.
"This means it's vital for grocers to offer customers more ways to save money while also providing the experience that online shoppers expect, as cost considerations will weigh more heavily than convenience for cash-strapped households in the second half of this year," he added,
Overall, the pickup method of purchasing groceries online also continued to grow during the second quarter, gaining 1.9 percentage points from the same period in 2022 to make up 48% of the U.S. market, according to the report.
Target also experienced moderate growth in digital grocery sales during the second quarter, capturing 7% of the market according to Brick Meets Click. Target's prices were an important factor of its e-commerce traffic, according to the report.
Sales in the overall e-commerce grocery category dropped 1.1% during the second quarter, a result of total orders dropping 5% year over year for the quarter. Just under 53% of U.S. households made at least one online order during the period, for a decline of 275 basis points.