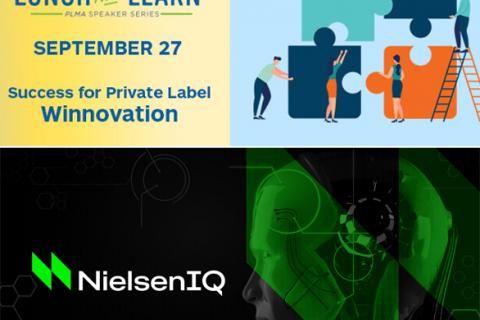 PLMA's popular Lunch & Learn live and online speakers' program returns on September 27 with presentations from a NielsenIQ team on innovation and trends.
Titled "Success for Store Brands – Winnovation," the program includes:
Genevieve Aronson, Nielsen IQ's Global Head of Thought Leadership, Content Strategy and Social Media. Aronson sits at the helm of Nielsen IQ global trends and insights and brings close to 20 years of experience spotting trends across the beauty, fashion, food, beverage, home, and health space.
Mike Jones, Senior Vice President of NielsenIQ BASES, the innovation measurement practice within NielsenIQ. In this role, Jones and his team provide C-level consultancy, strategic planning and 'Software as a Service' solutions to FMCG and retailer clients.
Sebastiaan Buchholtz, Senior Analytical Consultant at NielsenIQ in Brussels, who was one of the main speakers at PLMA's World of Private Label Trade Show this past May and holds a MSc. Double Degree in Advanced International Business Management, Business Management from the University of Groningen.
Previous Lunch & Learn sessions explored a wide range of topics, including presentations on packaging, product development, and the growing demand of consumers for store brands.
Registration is free for PLMA members and retailers. For more information regarding this session and other sessions of Lunch & Learn, please contact Julia Meehan at education@plma.com