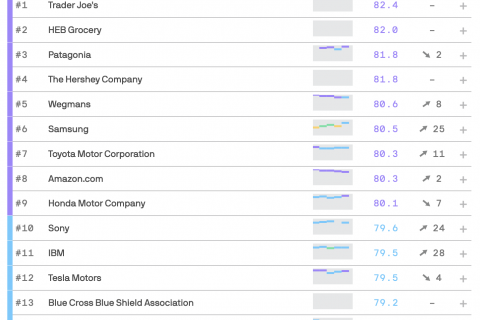 The grocery industry has emerged from the pandemic with its reputation intact, according to the 2022 Axios-Harris Poll 100 list.
The annual list, which dates to 1999, is a ranking of the reputations of the most visible U.S. companies. Grocery chains dominated this year, with Trader Joe's, H-E-B, and Wegmans in the top five, and Publix and Kroger among the top 25.
"As Americans move on from COVID, they are looking at corporate reputation through a more practical lens," John Gerzema, CEO of The Harris Poll, said in a release. "Companies delivering on time and keeping their promises despite supply-chain issues are being held in high regard. Businesses that also do their part to create a better world—whether through sustainability or taking a stand on authentic social issues—also are being rewarded."
Trader Joe's is a newcomer to the list this year and ranked first with a score of 82.4. H-E-B was not far behind, with a score of 82 to take the second spot. Wegmans came in at No. 5 with a score of 80.6.
Completing the top 5 were Patagonia and The Hershey Co. at Nos. 3 and 4, respectively. Publix was at No. 19 with a 78.8 score, while The Kroger Co. was No. 25 with a 78.4. Costco (No. 26), Target (No. 32) and Walmart (No. 77) also made the list.
The list is based on a survey of 34,000 Americans in a nationally representative sample conducted March 11-April 3.