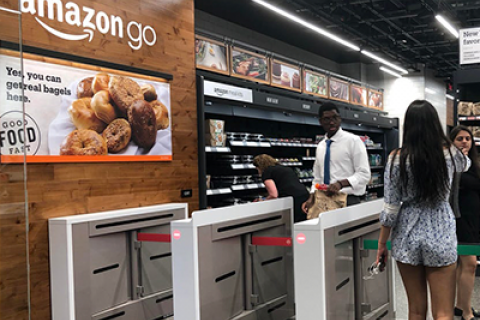 Amazon has announced it will permanently close eight of its high-tech Amazon Go convenience stores. The move is the latest by the company to pull back on some of its brick-and-mortar retail operations.
"Like any physical retailer, we periodically assess our portfolio of stores and make optimization decisions along the way," an Amazon spokesperson said in a statement explaining the move.
The closures will include two stores in Seattle, two stores in New York City and four in San Francisco, Amazon said in its statement. The affected stores will continue to operate until April 1.
The company stressed that despite the closures, this will not mean an end to the Amazon Go store concept. "We remain committed to the Amazon Go format, operate more than 20 Amazon Go stores across the U.S., and will continue to learn which locations and features resonate most with customers as we keep evolving our Amazon Go stores," the company said in a statement.
Amazon's physical stores in the U.S. include 535 Whole Foods Markets, 44 Amazon Fresh grocery stores, 28 Amazon Go c-stores and two Amazon Style apparel, footwear and accessories stores. The company opened its first Amazon Go store in 2018.
In another move, Amazon announced it was pausing construction on its second headquarters in Arlington, Virginia as it evaluates the space and size it may need for the project.