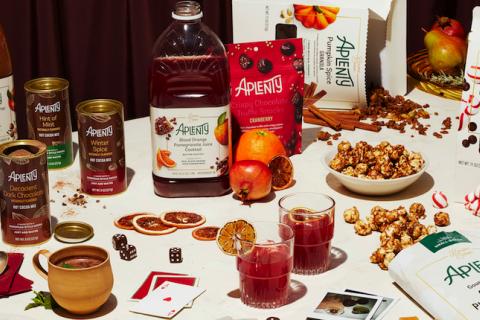 Amazon has added more than 100 new products to its private-label line Aplenty, in time for the coming holiday season. The products are largely seasonal additions to the Amazon store brand line that launched last year.
The new Aplenty products range from granola clusters to cheese crisps and are available for sale online and in Amazon Fresh stores. Later this month, Amazon will add Sparkling Citrus Punch, Chocolate Peppermint Granola, Double Chocolate Truffle Hot Chocolate and White Chocolate Peppermint Popcorn to the Aplenty line. New items will also include Honey Crisp Apple Cider, Cinnamon Bun Pancake Mix, Pumpkin Spice Granola and Caramel Pumpkin Spice Popcorn.
This is also another expansion of Amazon private brand products. Earlier this year, Fresh Plant-Based, a plant-based offshoot of Amazon Fresh's brand. Amazon other private brands in the food and drink categories include Fresh, Cursive and Happy Belly.