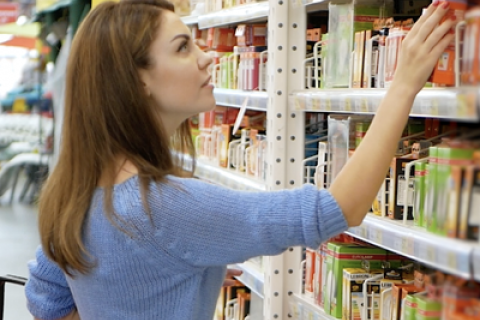 Nearly half of consumers would stay with their current food shopping location rather than shift to another to save money, a survey by investment and equity research firm Jefferies found.
Of 900 shoppers polled in Jefferies' U.S. Food Survey, 46% said they wouldn't change where they shop for groceries to gain savings. That percentage includes 33% of consumers who would "change what I buy, not where I shop" and 13% who "wouldn't change where or what I buy."
"When asked how consumers were going to change their food shopping location if trying to save money, 46% of the customers said they wouldn't change where they grocery shop. We believe this is positive for retailers who gained share with higher-income cohorts (Walmart, Dollar General) ahead." Jefferies analysts Corey Tarlowe and Randal Konik wrote on the study's findings.
"Seventy percent primarily grocery shop at supermarkets or mass retailers, while 33% would change what they buy, not where they shop if trying to save money," Jefferies analysts Rob Dickerson and Scott Marks said in the U.S. Food Survey report. "These results highlight the need for retailers and food manufacturers to invest in price and/or adjust price-pack architecture to meet consumer needs in a possible recessionary environment."
Buying private label products could be a tailwind for value-focused grocery retailers as consumers hunt for savings, the report's authors noted.
"According to the survey, consumers are most likely to buy private-label bread, eggs, spices/seasonings, and chips and least likely to purchase private-label cookies, coffee, baked snacks, and candy. We believe that food-oriented value retailers with strong, essential private-label offerings could benefit," Dickerson and Marks wrote.
Among other strategies to save money when purchasing groceries, 17% of respondents said they would shop more at discount stores, according to the Jefferies survey. Nine percent reported they would shop more at conventional supermarkets for savings, followed by club stores (7%), mass retailers (7%), dollar stores (6%), and more shopping at other types of stores (5%).
Traditional grocery stores still are the first choice of most consumers. Grocery stores were cited by 44% of consumers polled as their primary grocery store, compared with 24% who named mass retailers. Shoppers were also found to be turning to discount stores (13%), club stores (9%), premium markets (7%), dollar stores (3%) and other retailers (1%) as their main food shopping destination.