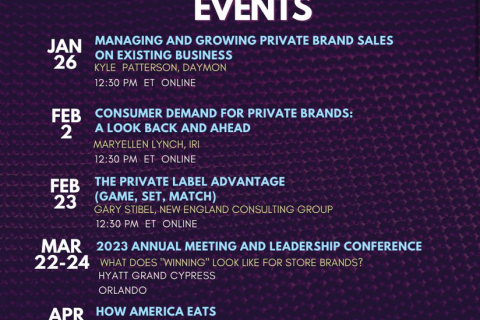 Throughout 2023, PLMA plans to hold a series of programs designed to help members and retailers build their businesses.
On the calendar are four of PLMA's popular Lunch & Learn sessions in addition to PLMA's 2023 Annual Meeting & Leadership Conference in Orlando, March 22-24, and PLMA's Executive Education Program at St. Joseph's University in Philadelphia, June 20-21.
The first Lunch & Learn on January 26 is titled "Managing and Growing Private Brand Sales on Existing Business."
PLMA's second Lunch & Learn program is titled "Consumer Demand for Private Brands: A Look Back and a Look Ahead." MaryEllen Lynch of IRI will be the host and presenter of the program on February 2.
On February 23, Gary Stibel of the New England Consulting Group will talk about "The Private Label Advantage (Game, Set, Match)." He will address how marketing and advertising have changed and how digital media can help retailers and private brands.
The final Lunch & Learn will be presented on April 27 by Elizabeth Horvath of North America Kerry. It is titled "How America Eats" and will focus on the changing food habits of Americans and how it is impacting manufacturers and retailers.
All Lunch & Learn sessions are held via Zoom from 12:30-1:30pm EDT. This program is complimentary for all PLMA member manufacturers, brokers, and suppliers as well as retailers and wholesalers. For non-members, the cost is $49.
For more information, email info@plma.com