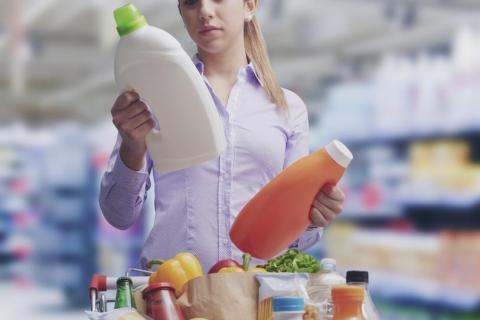 Private brand sales continue to rise into the second half of 2022. According to IRI, store brands gained 11.6% in dollar sales in July, while national brands increased 5.5%.
The past three months were especially strong. Store brands gained 11.6% in July, 11.4% in June and 9.8% in May, an average of 10.9%. Year to date, store brand sales are up 9.1% and national brand sales are ahead 5.5%. This is the seventh straight monthly 2022 report from IRI that indicates dollar gains for private brands.
During July, 16 of 17 departments showed store brand dollar growth, with only tobacco posting a decline. Liquor and beverages showed the strongest growth with 27.5% and 22.9%, respectively. Meanwhile, refrigerated (18.4%), deli prepared (13.9%), produce (10.5%) and the frozen department (8.7%) all showed solid growth.
On average, overall dollar share for the first seven months of 2022 came in at 18.2%, an increase over the 17.7% share in 2021 for store brands in all the major channels. Likewise, unit share was 19.9% for the first seven months, an increase over the 19.6% in 2021.
While unit sales continue to decline for both national and store brands throughout 2022, store brands are showing relatively better sales traction than their branded rivals. In July, national brands suffered a 4.7% decrease compared to a year ago, while private brands came in a little better, at minus 1.5%. So far in 2022, private brands averaged -1.8% unit decline while national brands had suffered a -4% drop.
The recent statistics are available for members at plma.com in the IRI Unify section. Members can find information on 317 categories and 967 subcategories, as well as statistics from 17 departments.