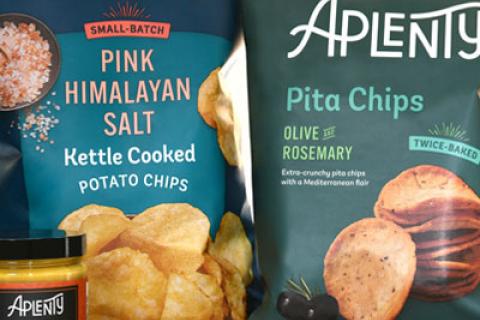 Amazon has launched a multi-category private label food line called Aplenty. Aplenty will be sold online and in Amazon Fresh supermarkets. It will include hundreds of food products including frozen foods, confections, cookies, crackers, salty snacks, condiments, sauces, seasonings, baking mixes and other pantry goods, according to the retailer.
Amazon said the products are "developed to the highest standards, with recipes rooted in quality ingredients." They contain no artificial flavors, synthetic colors, or high-fructose corn syrup. Aplenty products are backed up with a "Delicious Guarantee," meaning that customers can get a refund if not satisfied.

Aplenty products currently available include garlic and herb pita chips; small-batch pink Himalayan sea-salt kettle-cooked potato chips; salted caramel chip mini cookies; and honey Dijon mustard made with real honey.

Aplenty joins Amazon's growing number of private brands, including Happy Belly, Solimo, Wag, Wickedly Prime, Presto! and AmazonBasics, among others.