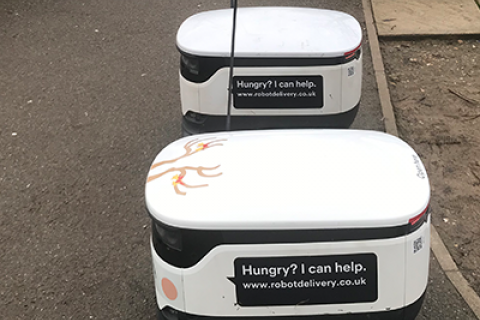 The "last mile" of home delivery takes such a big share of costs for retailers it's no surprise companies are trialing various solutions to mitigate these. In some cities in the UK, for example, Co-op is exploring sidewalk delivery robots to bring customers' online purchases to their home. The machine drives using GPS and customers are sent a unique code to their smartphones so they can access their shopping. "The Co-op is committed to exploring new technologies and seeking new ways to innovate", says Co-op's head of food digital.
Rewe is equally trialing a sidewalk robot in the Hamburg area in Germany. Customers can place their orders via the app and employees of the store assemble the products and place them in the cargo hold of the delivery bot. The robot should then reach its destination within two hours thanks to sophisticated technology with sensors, radar, lighting system, artificial intelligence and integrated navigation system.
Customers will then receive a message with a pin via the app, with which they can open the delivery bot. In Lithuania, the retailer goes one step further and is testing an autonomous delivery van with its subsidiary Iki. The small self-driving electric car drives on the road and delivers the order to the customer's doorstep and notifies them via a mobile app that the order is ready to be picked up. The customer only has to enter the order collection code and collect the purchase.
In Belgium, retail leader Colruyt is testing an autonomous delivery vehicle. After weeks of tests in the parking lot of its DC, it now drives unmanned on public roads. However, the car is monitored remotely by an employee who can intervene if necessary. Carrefour just started a pilot with a delivery robot at a business complex in the country.
Not only the high costs of the last mile, also labour shortages, high wages, the desire for 24/7 availability and mobility problems in cities are pushing retailers to find new solutions. As of now, the legal framework for autonomous delivery cars on public roads isn't there, the EU Commission has taken on the topic and is currently creating such a framework with new regulations. So far, however, many national and local permits have been required.