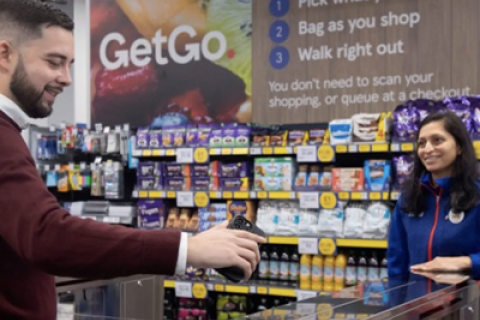 Intermarché is testing a smart shopping basket in one of its Relais stores in Paris. The basket was developed by French start-up Mo-Ka. When customers place items in the basket, cameras integrated in the handle automatically capture their image. The product is then identified by recognition algorithms thanks to a system combining image processing and artificial intelligence. Servers in the store communicate with the baskets through Wi-Fi and convert the images into a list of items. At the end of the shopping trip, customers can either automatically pay through Mo-Ka's app or use the regular self-service or manual checkout.
In London, Tesco opened a checkout-free store called Tesco GetGo. The technology has been developed in partnership with Trigo. Customers access the store by scanning a QR code in the Tesco app. In the store, a series of cameras and weight-sensors track the shoppers' movements and purchases. No basket or cart is needed, the customer can bag his items while shopping and simply walk out of the store when he is done. Within minutes, the receipt will pop up in the app and payment is deducted from the associated account.
German grocers Rewe, Aldi and Portuguese Sonae are among a number of other retailers that have opened scanning-free and cashier-free stores lately. While most are still in a test phase, it is clear that providing a frictionless shopping experience is high on the agenda of leading retailers across Europe.