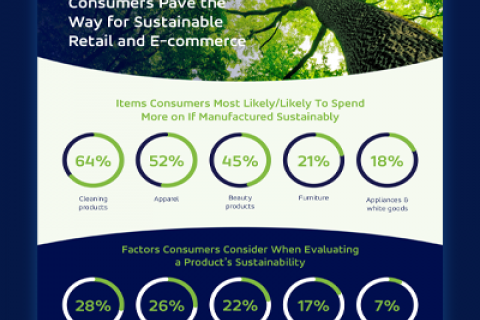 According to findings from the Blue Yonder 2022 Consumer Sustainability Survey, nearly nine of 10 respondents are willing to delay e-commerce deliveries for the sake of improving sustainability if given an incentive to do so. Of those respondents, 29% are willing to delay deliveries up to five days and 28% are willing to delay a week or more.
The survey found social media has a major influence, with over half (52%) of respondents' reporting to pursue sustainable shopping frequency. This includes 45% who said they were slightly-to-moderately influenced, and 7% said they were moderately-to-significantly influenced.
For those consumers who were persuaded by social media, Blue Yonder said the strongest influence came from Facebook and Instagram, with 31% and 28%, respectively. Facebook is the most popular platform for ages 45 and older, and Instagram for ages 18-44. TikTok (16%) and Snapchat (5%) were not as large of an influence with respondents.
The Consumer Sustainability Study also reported 81% recycle boxes/bags from in-store and online shopping at least half the time, and more than half (53%) recycle packaging 75-100% of the time. Almost two-thirds (64%) of respondents are willing to spend more on sustainable packaging, while 44% willing to spend up to 5% more. Four in 10 of those surveyed said there should be a minimum amount a consumer must spend to qualify for expedited shipping or shipping in general.
Blue Yonder collected responses in March 2022 from over 1,000 U.S.-based consumers, 18-years and older, via a third-party provider for this survey.