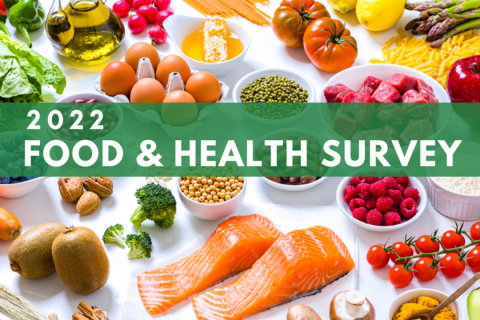 The International Food Information Council's (IFIC)17th annual Food and Health Survey has found that consumers are stressed out but trying to become healthier through cleaner eating and snacking much more often.
The top four eating patterns consumers say they are following are clean eating, mindful eating, calorie counting and plant-based products. Slightly more than half of all consumers say they are following a specific diet or eating pattern, an increase to 52% from 39% in 2021. More than one-third say they want to protect their long-term health, while about the same amount are interested in losing weight.
Stress is leading to more snacking by consumers. IFIC found a total of 73% of consumers snack at least once a day, which is an increase of 15 percentage points from 2021. Fifty-six percent of consumers reported feeling at least somewhat stressed during the last six months. Of those who have felt very stressed in the last six months, nearly 30% snack at least three times a day.
The report found stress is a major factor in what consumers are choosing to eat. IFIC found 54% of consumers who tried to alleviate stress through eating have made healthier food choices. But one in four said they always or often eat when they feel stressed. As consumers snack more now — and the survey found increases in snacking throughout the entire day — healthier snacks win out in the morning, with 43% of consumers picking up fruits. Later in the day, however, the snacks get less healthy. The most popular evening and late-night snacks include those that are salty or savory, candy or chocolate, and cookies, cake, or ice cream.
Consumers' desire for cleaner labels is seen throughout the comprehensive survey. When IFIC asked those surveyed to define healthy foods, most consumers said they were fresh, low in sugar, good sources of protein and containing fruits and vegetables. Almost half said that a product described as having clean ingredients on its label would be healthier than one that had identical nutritional properties but no claim, and more than half felt that way about a product with an "all-natural" claim.
The online survey, which studied consumer attitudes and behavior toward food and shopping, was conducted among 1,005 Americans ages 18 to 80 between March 23 and April 4. Results were weighted by age, gender, education, race/ethnicity, and region to reflect the 2021 American Population Survey.